Carlton Club Prestwich
279 Bury Old Road, Heaton Park, Prestwich M25 1JA
Club Tel. 07709 296164 Steward: Chris Sudlow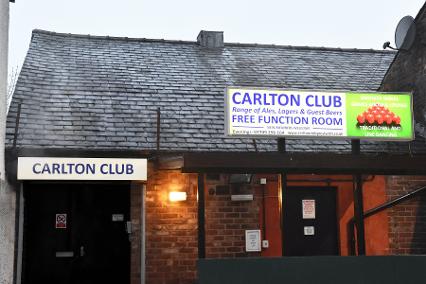 Opening Times
Sunday 12.30pm - 12.00am
Monday 7.00pm - 12.00am
Tuesday 7.00pm - 12.00am
Wednesday 7.00pm - 12.00am
Thursday 7.00pm - 12.00am
Friday 7.00pm - 1.00am
Saturday 7.00pm - 12.00am
MEMBERSHIP FEES
Standard Membership £10 per annum
Over 63 Membership £5 per annum
Associate Membership £5 per annum
Over 63 Associate Membership £2.50 per annum
Junior Membership £1 per annum (with adult)
*ALSO SEE SPECIAL OFFER PAGE*
Please return completed application forms to the club. If you do not have a proposer or seconder, you may be invited to attend an informal interview or telephone chat.
LARGE FUNCTION ROOM AVAILABLE
Celebrate your event at the Carlton Club
Contact Chris or Steve
Please return completed forms to the club.
About Us
The Carlton Club is a small and friendly sports and social club located opposite Heaton Park on Bury Old Road in Prestwich. New members welcome (see below for fees).
We have a well stocked bar with low prices
(see Bar Tariff page for examples).
Attractions
Snooker Tables @ 70p per half hour session
BT Sports live football
Table Tennis
Darts
Members' Lounge
Small, unsupervised, members-only gym (evenings)
Yoga (Monday)
Line Dancing (Tuesday, Wednesday)
LIVE ENTERTAINMENT
SHANGRI LA
Home to Shangri La who provide live contemporary cabaret: music, poetry and short theatre entertainment.
£5 charge on the door. Visit the website for listings: www.theshangrila.co.uk
USUALLY THIRD OR FOURTH FRIDAY EVERY MONTH
CHECK OUR WHATS ON PAGE ABOVE FOR FORTHCOMING DATES

NORTHERN SOUL - SOULSHAKERS
£4 charge on the door. Visit the website for listings: www.soul-source.co.uk
LAST SATURDAY EVERY MONTH
FORTHCOMING

25 May 2019
29 June 2019
27 July 2019
31 Aug 2019
From 8pm to 2am
HOME TO PRESTWICH COMMUNITY CINEMA
Forthcoming dates: 2019
10 February - Ghost Stories (15)
10 March - Apostasy (PG)
14 April - Leave No Trace (PG)
12 May - American Animals (15)
9 June - Lady Bird (15)
Tickets in advance at Eventbrite or on the door on the night.
Also see Longfield Centre Prestwich for details of the Classic Cinema events.
www.carltonclubprestwich.co.uk